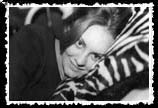 TIFFANY JO ALEXANDER
AND
JEREMY DAVID BRANECKY
FOREVER!
Answered Dreams

Oh how beautiful are the eyes that give you sight.
Oh how sweet are the lips upon your mouth.
Your smile is the most lovely ever smiled.
Your feet are so cute and fun to play with.
When you laugh you bring joy into my life.
A joy I miss when gone and never want to lose.
No one else in the world is so right for me.
No one else, but you.
You came from my dreams.
Perfect, sweet, all mine.
No character in a play, book, or novel,
Could have been written so perfect for me.
I love you so much.
More than anyone before.
Forever, you,
And Forever me.